---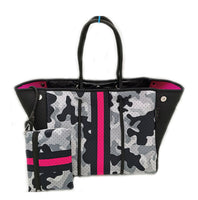 High Quality, Stunning Neoprene Totes.
Perfect for the beach, the pool, picnics, some designs are even perfect for the office. This bag does not disappoint.
Light Weight
24" wide from top corner to corner when open
15" wide with buttoned square
13" tall
10" wide bottom
Removable hard plastic bottom
Magnetic Buttons
Inside Pocket? Y 
*The Stripe is not that bright. It's more of a pinkish purple color.